Message from Lead Pastor, Steve McMillan
2021 in my opinion is probably the most unusual year we have faced as a church. Rapidly changing health and gathering restrictions, increased polarization and a general sense of societal uncertainty caused our congregation to become extremely flexible and creative with our ministries, staff configurations and our gatherings!
While there were unique challenges, there were also many wins.
During a year fraught with political and relationship tension our congregation was able to stay connected to each other and to our mission of helping each other find and follow Jesus. In our large and smaller gatherings, we have been able to navigate a variety of perspectives and yet still remain united in Christ.
2021 was marked by uncertainty both politically and economically and we are able to continue generously providing financial resources to maintain our ministries and to be generous to local and global needs and missions.
In a season marked by isolation and loneliness, our Community Groups, Youth & Children's ministry and Mentoring programs thrived by providing places of connection and belonging.
While at times we were severely limited in our ability to meet together we were still able to reach hundreds of people online with the messages of hope in Jesus. Our services have been viewed tens of thousands of times by people from all around the globe. New online ministry opportunities and expansions in our English Language Ministries, online zoom courses and youth work have shown that we have the resilience and creativity required to serve God no matter the restrictions!
As best as possible, our church has been incredible in our ability and desire to continue to function as a force of light and love! This says a great deal about the quality, depth, and breadth of our capabilities and strength as a church.
I am so grateful for our BVCC family! You have adapted so well to new ways of expressing our faith, you have remained generous with financial giving and you have leaned on Jesus in prayer. Thank you for being the Church!
For the Kingdom,
Steve McMillan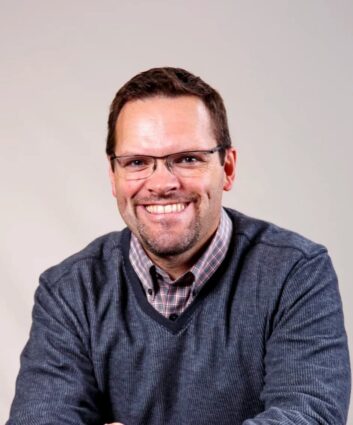 The Numbers
We can never go back in time, no matter what sci-fi movies fantasize about.
Our new reality is that we embrace the personal and virtual means of discipleship.
Here are a few interesting states from 2021.
120
Sunday Online Devices
3x
more who watch after the live service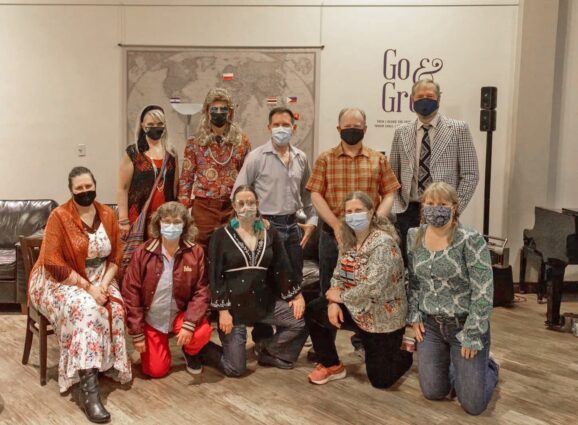 The Value of Shining
"I am so grateful to have found a community in Bow Valley Christian Church that has welcomed my family and I with open arms. We love the opportunities BVCC has to get involved, whether it is through engaging kids programming or great family-friendly services. I particularly have enjoyed being a part of the worship team and have thrived in the judgement-free, fun and God-focused environment that fosters creativity and passion. The leaders at Bow Valley like Pete Justine are warm, caring and understanding. We love it at Bow Valley!" – Jolisa
The Value of Growing
"I'm always blessed to be part of the service whether I watch online or go in-person. I'm grateful that the community at bow valley church remained strong through the pandemic. Worshiping with the church every week has been a source of encouragement and inspiration for me. I'm grateful for the leadership here for being excellent examples of how to follow after Jesus through whatever circumstances. The sermons have been very helpful and compelling. I'm grateful for the elders who bless us and lead the church in prayer. I'm grateful to be part of the worship team where everyone is accepting of others, and sincere and excellent in leading the church to praise God." – Zara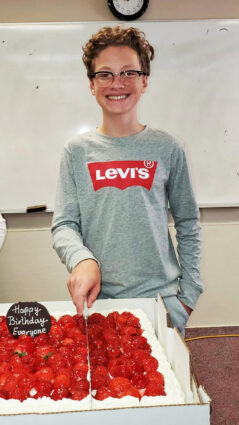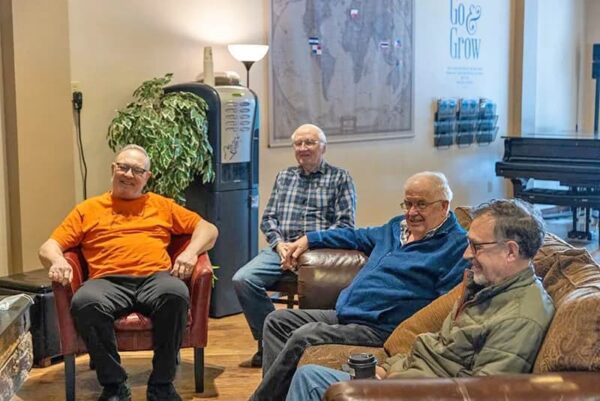 The Value of Belonging
"My favourite way of 'being a community' is to serve alongside people. Over my years at Bow Valley, my life journey has meandered through the church kitchen, in the board room, around a punching bag, and in many of your living rooms. We don't choose our community, but I still couldn't ask for better friends to walk alongside." – Nate
Meal Packing Event
Thank you to our generous donors we had a very successful, meal packing event in our gymnasium on November 6th, 2021 and packed 17,928 meals for Lifeline Christian Ministries. There were 92 participants, young and old, involved in this mission activity.
These meals will be shipped to Haiti.
3
Livestream Platforms
While we have been able to have in-person services for most of 2021, we are still continually reminded of the value of maintaining our live-stream ministry. We have leveraged YouTube, Facebook and ChurchOnline Platform to broadcast our messages. We also experimented with Zoom telephone and video chat on a few Sundays. Our next step we will be offering our Sunday teachings as a podcast.
There are many in our local congregation who faithfully attend online each week, as well as numerous others who have become a part of the extended BVCC family, attending from other provinces and states, and from as far away as France, India, and Australia. We are grateful to our many volunteers who put so much effort into our online services every week.
4.9K
Views
The top Facebook video post was titled, "The Lord's Prayer" (instrumental) – Harry Helwerda and posted April 3, 2020. The video's description was, "Harry Helwerda is back at this piano helping us 'pray' along with him!"
77.7%
of our audience is in Canada
With our online presence, we connect with many people around the world. Our top four countries (according to Facebook) are Canada, the United States, the Philippines and India. On a city-to-city scale, 50% are from Calgary.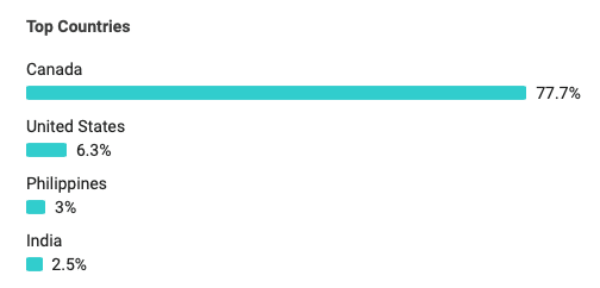 Donate to Missions
Limitations on international travel didn't stop us from helping others globally …
We continued our financial and prayer support of 10 Global Missions partners.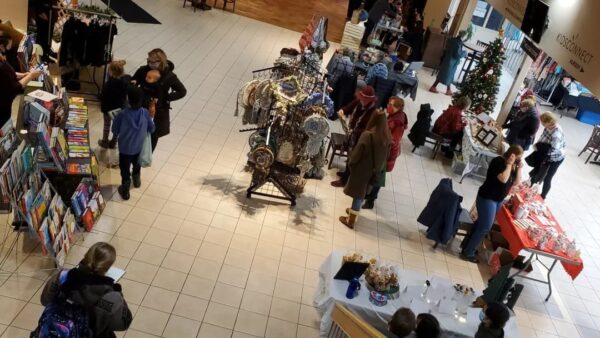 The December Christmas Market and Bazaar under Donna Heitman's leadership raised $2,591 for Tabuk Refuge of Hope.
Special gifts of $6,539 were received for Tabuk Refuge of Hope (Philippines) after Vienna Moilliet shared the expanding ministry vision in October.
Sean Armstrong travelled to Panama with Lifeline Mission to learn about the proposed Container Project.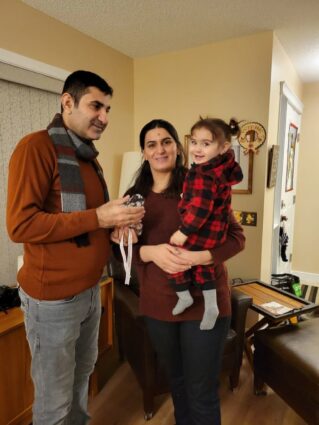 The Sidi family arrived in December thanks to the work of BVCC's Refugee Sponsorship team and the prayers and generosity of so many.
2021 Financials
There has been a lot of progress this year, and we want to tell you all about it. For audited financial statements please see the Welcome Centre in the foyer.
$1,018,497
General Fund Income
$880,817
General Fund Expenses
$119,183
Missions Income
$95,240
Missions Fund Expenses
Giving Testimonials
"There are a few reasons why I have chosen to support BVCC. Mainly, as I sit and listen to the service online, the sermon often reiterated the many thoughts I had over the week or two before. It is confirmation from our Heavenly Father of his word, his message of his son Christ Jesus! As this pandemic unfolded over the past couple of years, I listened to the progress reports of the church and the ministries that BVCC is involved in. Great things are happening with many blessings unfolding. John 15:1-2 says, "I am the true vine, and My Father is the vinedresser. Every branch in Me that does not bear fruit he takes away; and every branch that bears fruit he prunes, that it may bear more fruit."
Online Viewer — Drumheller, AB
"All that we have belongs to God, and by faithfully supporting the mission of our church, we are acknowledging that we need to put Him above all. BVCC supports missions that are important to us locally within our church and community, as well as internationally and through the Refugee Sponsorship program. We give with an attitude of joy and thankfulness, trusting and knowing that He will always provide for our needs."
Bow Valley Couple — Calgary, AB
"We have been tithing online, the first 10% of our income, for about fifteen years now. Using the PAG method has relieved stress for us. There is no more asking each other did you write the cheque or did you bring the cheque? We know that no matter where we are the church receives our offering. We know Bow Valley can count on the funds for ministry for our church and church family."
Preauthorized Giving — Calgary, AB
Contact Us
If you have any other questions, let us know.

Ways to Give
Every dollar given to BVCC goes to support ministry to our church members, to our local community and to our partners around the world. We could not do this without you. Our leadership is overwhelmingly grateful for your financial partnership in the gospel. We look expectantly to the next year of ministering together.
PreAuthorized Giving

+

−
App

+

−
eTransfer

+

−

Just follow these steps:

1. Go to the Interac eTransfer section of your online bank account.

2. Add Bow Valley Christian Church as a new e-transfer contact and use the email address [email protected]

3. Don't bother with a security question as BVCC has an auto-deposit set up.

4. To properly attribute and receipt your donation in your Message section please include the following as you make the transfer:

For new donors include your name, home address, phone number, email, and Designation.

For existing donors include your name, email, and Designation.

Designation examples include but are not limited to: General Fund, Missions, Benevolence, Building Fund, Refugee Sponsorship, Parking, Rental ...

5. If you are unable to submit all of your personal info in the Message section or have additional questions, please send a separate email with your contact details and donation amount to [email protected]
Website

+

−
Envelope

+

−

You can mail your envelope with a cheque or just swing by and drop it off in our security box.
Tap-to-Pay

+

−

Have a credit card? Come by and tap it to make donation. We can debate who decides the amount. 8)