Message from Lead Pastor, Steve McMillan
Give thanks to the LORD, call on his name; make known among the nations what he has done.
Sing to him, sing praise to him; tell of all his wonderful acts.
Glory in his holy name; let the hearts of those who seek the LORD rejoice.
1 Chronicles 16:8-10
It is significant for us to pause each year and to remind each other of how good God has been towards us as a community. Each March we reflect on God's presence in our midst during our annual "Celebration & Anticipation" Sunday as well as through our Annual Report. This report is one opportunity to tell of God's wonderful acts of grace in our midst. It is a short reminder of the ways in which God is at work and how our congregation is achieving our mission of helping others find and follow Jesus.

2022 was a year of economic, political, and technological change and challenge. The world attempted to recover from the pandemic while at the same time beginning to realize its full impact on people's minds, bodies, and souls. During 2022 our congregation has continued to be a testimony to the faithfulness of God through the hearts of His people. Generous giving, faithful service, and holding on to our values of faith, hope, and love, have demonstrated the reality of Jesus to each other and to the world. In countless ways, we have been able to unleash God's love to each other, our city, and our world. By working together, we have been able to proclaim the Good News of Jesus in word and in action across the globe.
I continue to be amazed and thankful that God is growing our congregation into a united outpost of His Kingdom! I am so grateful to be a part of what God is doing through BVCC at this point in history!

For the Kingdom,
Steve McMillan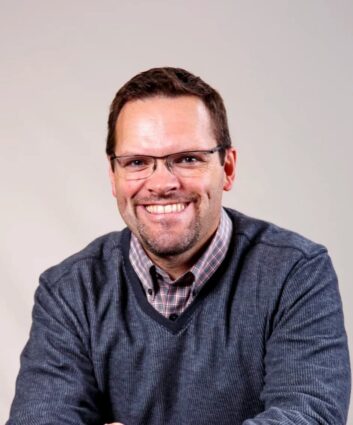 The Numbers
We can never go back in time, no matter what sci-fi movies fantasize about.
Our new reality is that we embrace the personal and virtual means of discipleship.
Here are a few interesting stats from 2022.
305
Avg. View per Sunday's Message/Service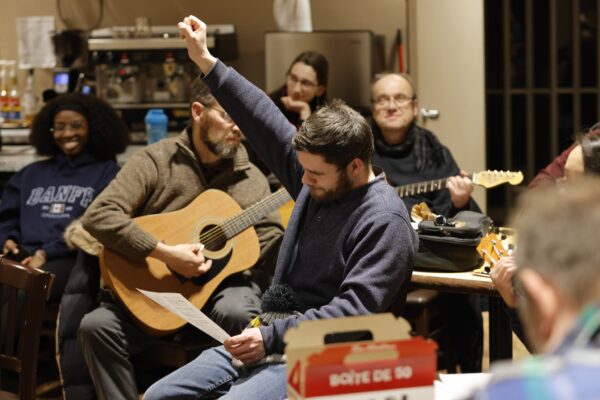 The Value of Shining
"I started going to BVCC at the end of 2015 (I believe) and by January of 2016 the worship pastor at the time is asking the congregation for musicians to join the worship team. I told myself I'll give it a try, and here I am today. God has given me this gift to serve Him and the people He loves through music." – Aian
The Value of Growing
"God has grown our English Language Ministry since the beginning of COVID. We have more classes — now four times a week. People from more places across Canada and other parts of the world are attending. Three people have been baptized because of the Bible study class. People who know nothing about Christianity are coming to the Bible study class because they are interested and want to grow more." – MaryAnn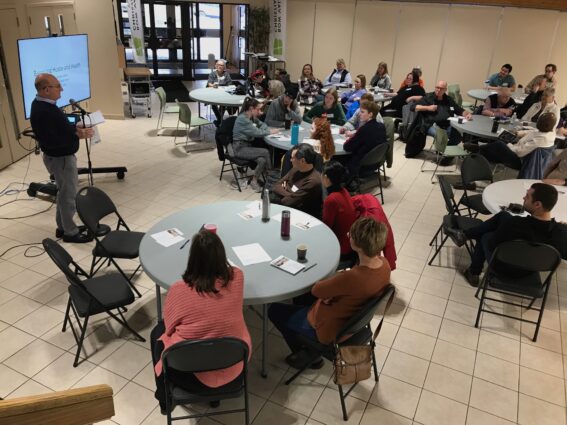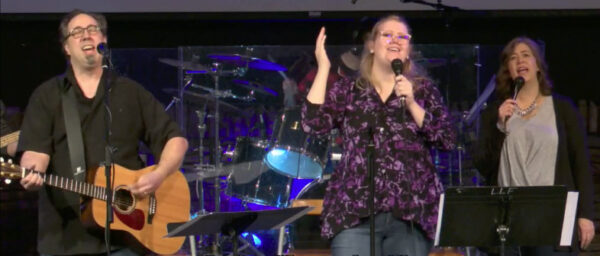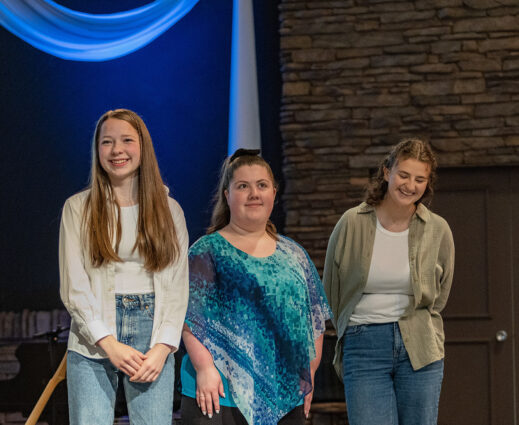 The Value of Belonging
"I come from a line of Bow Valley attendees - my grandparents and parents have always been a part of this community. When I started my own family, I was seeking a place to belong and found a home at BVCC with my husband and children. We enjoyed the children's ministry, made friends with other parents and I joined the worship team.
Sadly, my husband passed away suddenly and I was left with two small children, also pregnant with my third. In those dark times, it's challenging to know where to turn and who to trust. Right away, members from BVCC reached out and volunteered their time to help me with funeral logistics. A few even stepped in last minute to be pallbearers for my husband's burial.
At Bow Valley, belonging is for the long haul. When I was ready to return to attending often with my kids and rejoin the worship team, they welcomed me with open arms. They invest and support so many to ensure that the community is strong and connected." – Jolisa
~ ~ ~
I had grade six girls help me teach in KidsConnect during the PYPA weekend. I realized my helpers were the girls I had taught when they were just three years old. They were all still coming to church and now serving! One of them remembered that I was her teacher all those years ago. I felt I have never led someone to the Lord besides my kids. But this is a reminder that maybe I'm a seed planter or discipler, not a hard-core evangelist.
Also, when I taught grade 5 and 6 girls, I taught them that they need to find a place to serve if they want to keep being part of the church. These girls are all finishing/finished university and they are all serving at BVCC in some capacity." – Lisa
Gymnasium Refurbishment Project
November 2022 saw the start of our Gymnasium Refurbishment project. Thank you to our many volunteers, staff, and contractors who played a part in the transformation of the gym. Long gone are the orange carpet, bleachers, green stairs, carpeted storage wings, and tight doorways into the storage wings. Volunteers completely removed all of the old carpets late into the evening on November 11 in time for the new flooring contractor to start installing new cushioned vinyl flooring. Our soccer, karate, volleyball, and school renters were back in action 10 days later! We also added a 50' stage with storage carts beneath, expanded the capacity and accessibility into the storage wings, and added a key card access door for after-hours renters.
2
Livestream Platforms
While we returned to full-capacity in-person services in the Spring of 2022, our Live Streamed (and recorded) worship services and teaching continues to attract viewers locally, domestically, and internationally. Viewership includes our local congregants as well as numerous others who have become part of the extended BVCC family in Canada, the USA, and as far away as France, India, and Australia. We leverage YouTube and ChurchOnline Platform to broadcast our messages. Our online worship services have also attracted many new individuals and families to join us in person! Our gratitude continues to the many volunteers who provide a great online experience every week for those unable to attend our live service.


Previously known as BVCC Missions
Why change the name?
Historically, "missions" was about individuals and churches from Christian countries sending and supporting missionaries to evangelize unreached people groups. But that is not an accurate or desired understanding of how BVCC shines Jesus' love beyond our church family. Our desire is to serve in partnership with ministries both locally and internationally that exist to help others find and follow Jesus.

"Global" refers to the whole world—and so readily encompasses our diverse ministry partners—from Pine Lake Christian Camp in Alberta to Tabuk Refuge of Hope in the Philippines, and Ricot and Mandy Leon serving Haiti through Lifeline Christian Mission. We value the work done by our ministry partners serving in Canada, and Canadians serving internationally, as well as indigenous Christian leaders serving their people at home.

BVCC Global acts on behalf of Bow Valley Christian Church as we support our ministry partners with prayer and finances. We also seek opportunities to support our partners by sending short-term teams. Together we shine Jesus' love globally!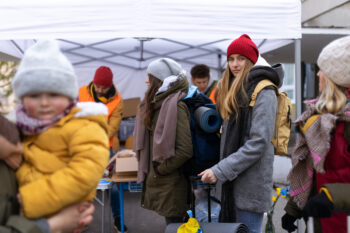 Graceland Ministries (Krakow, Poland) serves Ukrainian refugees
In early 2022 as Ukrainian refugees arrived in Poland, Jay Bowyer and Colette Ladan worked alongside their Polish students to help. Graceland Ministries created a special fund designated for Ukrainian refugee relief—and North Americans contributed $47,000. With those funds, the Graceland team began a train station ministry providing Polish cash for refugees as they arrived in Krakow.

They also sponsored several Ukrainian families. One refugee has become an integral part of the Graceland community participating in Bible studies, helping Colette as a personal care aide, and assisting the ministry in other ways.
Through BVCC's Global partnership with Graceland Ministries, we have been able to shine Jesus' love on individuals impacted by the war against Ukraine. Graceland is much more than an English school!
BVCC Refugee Team welcomed A, B, and Z to Calgary
In late 2022 our Refugee team welcomed a second refugee family to Calgary and Bow Valley. This team works through legalities, finances, and logistics prior to a family arriving in Canada. The team continues to be hands-on with the families, helping with medical appointments, school registration, banking, shopping, and many other details that come with making Calgary home.
2022 Financials
We are so thankful for our faithful, generous, and committed donors that support our work for His Kingdom! For audited Financial Statements, please contact our church office or pick up a copy at the Welcome Centre in the foyer.
$1,076,482
General Fund Income
$1,019,398
General Fund Expenses
$145,927
Global Income
$115,814
Global Fund Expenses
Giving Testimonials
"I've always viewed giving as a selfish adventure. ….Why you may ask.
Just think of the return other than a fulfilling exercise.
It's raising your vibration to a higher level as a form of worship and the returns are tremendous. You experience a whole lot of freedom that set you on a path of JOY.
Giving is not just monetary. It's a step for other types of giving. Your time, home, a meal, a kind encouraging word, compassion, and friendship. It keeps the devourer from your door.
You can be assured that we have invested in a bank that allows us to approach our Maker with a heart of obedience. We can never outgive God, and while we don't give with the sole purpose of getting, there's comfort in knowing in our time of need He will provide. We are working towards holding everything lightly and giving our hard-earned money with a joyful heart when the occasion arises.
I like to think we are storing up treasures in heaven.
Nothing wrong in enjoying the fruits of our labour. However, it is God who gives us the ability to make wealth.

Selah."
Bow Valley Couple — Calgary, AB
~ ~ ~

"My husband and I have been a part of BVCC for over 30 years. We have always given 10% to the church. My father passed away and I was blessed with a large inheritance from which we also gave 10% to BVCC. God has blessed us abundantly."
Bow Valley Couple — Calgary, AB
Contact Us
If I have a question or comment about our finances or ministries who do I speak to?
The leadership and staff want to hear from you at any time of the year! Please call (403-286-5300) or email the office ([email protected]) and we will direct you to the person who can answer your questions. If you would like to have a conversation regarding a specific area, consider these options:
Finances: [email protected]
Elders: [email protected]
Global: [email protected]
Ministries and Mission: [email protected]
Prayer Requests: [email protected]

Those wishing to become a member of Bow Valley Christian Church community can find out more on our membership page.
If you have any other questions, let us know.

Ways to Give
Every dollar given to BVCC goes to support ministry to our church members, to our local community and to our partners around the world. We could not do this without you. Our leadership is overwhelmingly grateful for your financial partnership in the gospel. We look expectantly to the next year of ministering together.
PreAuthorized Giving

+

−
App

+

−
eTransfer

+

−

Just follow these steps:

1. Go to the Interac eTransfer section of your online bank account.

2. Add Bow Valley Christian Church as a new e-transfer contact and use the email address [email protected]

3. Don't bother with a security question as BVCC has an auto-deposit set up.

4. To properly attribute and receipt your donation in your Message section please include the following as you make the transfer:

For new donors include your name, home address, phone number, email, and Designation.

For existing donors include your name, email, and Designation.

Designation examples include but are not limited to: General Fund, Missions, Benevolence, Building Fund, Refugee Sponsorship, Parking, Rental ...

5. If you are unable to submit all of your personal info in the Message section or have additional questions, please send a separate email with your contact details and donation amount to [email protected]
Website

+

−
Envelope

+

−

You can mail your envelope with a cheque or just swing by and drop it off in our security box.
Tap-to-Pay

+

−

Have a credit card? Come by and tap it to make donation. We can debate who decides the amount. 8)